Almanac
Listed are some of the important days in the history of our clans. Please notify any changes or corrections to ash@long,com.au
January
January 22, 1980. Kristi Bryant (nee Long). Birthday. Born Carlton.
January 30. 1916. Albert Fletcher Lawrence and Honora O'Brien. Married at All Saints Anglican Church, Preston.
February
February 3. 1957. Fleur Long (nee Tunzi). Birthday. Born Melbourne.
February 3. 1978. Ash Long and Fleur Tunzi. Married St John's Anglican Church, Epping, Victoria.
February 25, 1924. Marjory Norah Long (nee Lawrence). Birthday. Born Thornbury, Victoria.
March
March 1. 1890. Joseph Lawrence and Sarah Jane Fletcher. Married Camberwell, London.
March 12, 1949. Denise Long (later Musial, later Meikle). Birthday.
April
April 16. 1869. Joseph Lawrence. Born Bermondsey, England.
May
Type
June
June 8. 1921. Jim Long. Born Numurkah, Victoria.
July
Type
August
Type
September
September 20. 1892. Albert Fletcher Lawrence. Born Bermondsey, England.
September 27. 1952. Greg Long. Birthday.
October
October 19. 1956. Ash Long. Born Ivanhoe, Victoria.
November
November 27. 1851. James Long arrives in Australia from Ireland. Aboard the Hydaspes, at Adelaide.
December
Type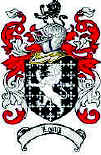 Head Office: 30 Glen Gully Road, Eltham, Vic 3095
Phone: 1-800 231 311. Fax: 1-800 231 312.
International Phone: (03) 9439 9927. Fax: (03) 941 6247
E-Mail: ash@Long.com.au
Copyright © 2013